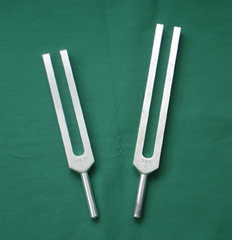 hear the sound of the golden mean
Two specifically-tuned tuning forks, when listened to together, create the Golden Mean ratio. Listening to this ratio has a healing effect on us (the frequencies of the two tuning forks are 414.2Hz and 256Hz).
THE GOLDEN MEAN
The Golden Mean (or Golden Section), represented by the Greek letter 'phi', is one of those mysterious natural numbers that arise out of the basic structure of our cosmos. Phi appears clearly and regularly in the realm of things that grow and unfold in steps, and that includes living things.
The decimal representation of phi is 1.6180339887499.
You can find the Golden Mean in a number of places. If you start with the numbers 0 and 1, and make a list in which each new number is the sum of the previous two, you get a list like this:
0, 1, 1, 2, 3, 5, 8, 13, 21, 34, 55, 89, 144, ... to infinity→
This is called a 'Fibonacci series'. Leonardo de Pisa (circa 1180-1240 AD), better known as Fibonacci, discovered the uniformity of ancient harmonic wisdom. He realised that the natural branching, flowering, and spiralling forms in nature follow the same uniform laws found in musical scales.
If you then take the ratio of any two sequential numbers in this Fibonacci series, you'll find that it falls into an increasingly narrow range:
1/1 = 1
2/1 = 2
3/2 = 1.5
5/3 = 1.6666...
8/5 = 1.6
13/8 = 1.625
21/13 = 1.61538...
34/21 = 1.61904...
and so on, with each addition coming ever closer to phi (1.6180339887499...).