THE ASSEMBLAGE POINT


The Assemblage Point is the main place where our energy field connects with our physical body. The Assemblage Point is directly connected with our life force energy.
The Assemblage Point lies in the centre of the chest at the nipple line. The Assemblage Point is slightly higher on women than men. At this point lines of energy pass through the chest and out of the back.
The Assemblage Point is actually a cluster of energy lines. Where these energy lines enter the chest there is generally a tender or sensitive area of skin with a diameter of 0.5 – 1.0 cms.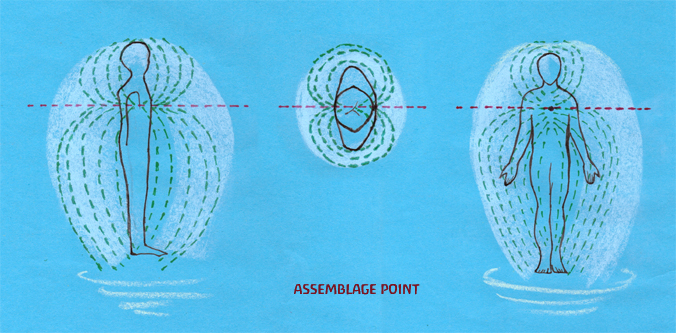 The clustering of lines of energy at the Assemblage Point creates a stronger energy potential compared to other areas of the energy field.
Infrared digital thermometers and infrared image scanners show that the Assemblage Point has a temperature 0.2 of a degree lower than the surrounding skin.
The position of the Assemblage Point has a direct effect on our physical and psychological health. When the Assemblage Point is correctly aligned we will feel positive and happy. We will be healthy and interact well with other people.
When the Assemblage Point is out of alignment we may feel unwell or anxious. We may be lacking in energy and feel that life is constant struggle.
Any sudden or prolonged stress can shift the Assemblage Point off centre. Events that may shift the Assemblage Point off centre include:–
• Emotional Trauma
• Violent Attack
• Intimidation
• Accidents
• Giving Birth
• Drug Use (legal or illegal)
• Sudden Shock
• Operations
• Prolonged Illness

The Position of the Assemblage Point
If the Assemblage Point moves down to the liver area a person may experience depression and constant fatigue. This position is common in people with ME.
If the Assemblage Point moves upwards a person may display manic behaviour. With some people the Assemblage Point can split in two leading them to swing between mania and depression.

How to Re-Align the Assemblage Point
The Assemblage Point can be re-aligned with the use of a large crystal by a therapist who has been properly trained (see links below). Some therapists may have a strong enough energy to realign the Assemblage Point without using a crystal.
The Assemblage Point can also be realigned using sound frequencies. Choose the male or female frequencies and listen to this 8-minute MP3-format track morning and evening.
You can listen to the sounds while sitting or lying down. The frequencies may sound quite discordant at first. Discordant sounds tend to move energy while harmonious sounds have a balancing effect.
It is good to focus on the Assemblage Point diagram while listening to the sounds. While listening to the sounds ask that your Assemblage Point is restored to its correct position.

Assemblage Point Sounds
Women should listen to the Female Frequencies.
Men should listen to the Male Frequencies.
Please do not listen to both sets of frequencies.
Listening to the sounds more than twice a day is not recommended.
You should listen to the Assemblage Point sounds once in the morning and once in the evening.
Do not listen for more than 8 mins at a time!
Pregnant women or children under 14 should NOT use the Assemblage Point sound frequencies.

Workshops
Simon Heather runs workshops for people who would like to learn more about the Assemblage Point.
Please click on this link for details.

More Information
If you would like to find out more about the Assemblage Point please go to:
The Whale Medical website
The Human Assemblage Point

Books about the Assemblage Point
Jon Whale's 'The Catalyst of Power: The Assemblage Point Of Man' (available through his website - eBook £12.95 / Paperback £16.95)
Angela and Tom Blaen - 'Sparkling Energy Medicine: Dynamics of Assemblage Point and Gemstone Healing" (available from the Assemblage Point Centre for £25)
Simon Heather - 'Assemblage Point Healing' (available through this website - £8)

Assemblage Point Practitioners
Download a list of Assemblage Point Practitioners

Feedback
MARY - "My heartfelt thanks to you, for your generosity in making the Assemblage Point frequencies available on your website. Just playing the track has made a tremendous difference in my energy field and has helped me so much."
MANDI - "I sat down with my labradorite wand this evening, holding it to my assemblage point, listening to your absolutely amazing assemblage point sounds. The combination of holding this powerful wand and listening to the sounds through my headphones was really astonishing and incredibly powerful. I think the sounds are truly amazing. It's very generous of you to offer these."
MARY - "After the 8 minutes my fibromyalgia pain decreased by about 90%. I felt a whirling motion in my chest area, like an 'energetic washing machine', along with a stronger heartbeat for a few seconds, which then subsided. I am so grateful that you would freely give this to us on your website."
LOUISE - "I picked up a very nasty bug from the school I was teaching at 2 days ago, and was very debilitated, but listening to the MP3 has put me on the road to recovery, thank you."
GEORGIA - "The first time I listened to these inspired divine frequencies I was taken into a space of all-encompassing stillness, absolute balance permeating everything. The effects of these frequencies were of profound and liberating benefit to me and I thank you for manifesting this excellent tool."
MARY - "I listened to the sounds last night for the Assemblage Point and slept very well. Interestingly my husband listened to the male version and he too slept well."

HELEN - "I have also just started using the Assemblage Point frequency. The first time I used it, I was feeling quite low and out of balance and it was amazing, very powerful. Thank you for putting it on your website so that it is freely available."

ANNA - "I played the sounds and felt where the Assemblage Point was misaligned in my body. The misalignment I felt seemed to adhere to the diagram. After the sounds finished I felt lighter and more centred."

LLINOS - "I had a feeling of a shift as if my Assemblage Point was moved half an inch across my chest from left to right... it is felt as if my whole body was being held by the sound. When it came to the last sound I felt an openness to life and being open to new things."

WENDY - "I am just dropping you a line to say thank you for putting the Sound Frequency for balancing the Assemblage point freely on your website. I have found that I could instantly feel a pulsating in the Assemblage point which got strong and stronger and started to pull my body into the frequency with a pulsating experience."
"I felt increasing energy in my hands and became very hot, but had a feeling of calmness as if a weight had been lifted, I felt more centred and aligned afterwards. Thank you for this opportunity."

Please can you email me with your feedback from using the Assemblage Point frequencies (let me know if you are happy for your feedback to be included on this page).

Donations
If you have benefited from using the Assemblage Point re-alignment frequencies, and would like to make a donation to support further research into sound healing, please do click on the PayPal "donate" button: