ASSEMBLAGE POINT WORKSHOP


The Assemblage Point is the main place where our energy field connects with our physical body. The Assemblage Point is directly connected with our life force energy.
The position of the Assemblage Point has a direct effect on our physical and psychological health. When the Assemblage Point is correctly aligned we will feel positive and happy. We will be healthy and interact well with other people.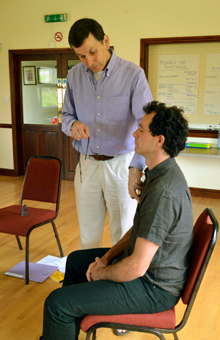 Simon Heather Locating the Assemblage Point
When the Assemblage Point is out of alignment we will feel unwell or anxious. We will be lacking in energy and feel that life is a constant struggle.
If the Assemblage Point is too low we will experience chronic fatigue. If it is too high our behaviour will be manic and aggressive.
In this workshop you will learn -
• The different positions of the Assemblage Point and what they mean
• How to find the position of the Assemblage Point
• How to re-align your Assemblage Point
• How to work with clients to re-align their Assemblage Point
The Assemblage Point re-alignment is usually done at the beginning of a healing session and generally only takes 10-15mins. As a result the Assemblage Point re-alignment can be added to any holistic treatment. The Assemblage Point re-alignment enhances the effectiveness of any therapy.
The Assemblage Point treatment has a profound effect on people. Other holistic treatments seem to work better and hold for longer once you have re-aligned the Assemblage Point.
Click here for more information on the Assemblage Point.

Assemblage Point Workshop
This workshop is primarily for practitioners. Attending the workshop will give you the skills to add the Assemblage Point Healing to the therapies that you currently practise.
You will need to bring four small clear quartz crystals with you to the workshop. The quartz crystals need to be single terminated and around 4-5 cms long.
BOOK - Simon Heather has written a book on the Assemblage Point to go with this workshop. The book is included in the cost of the workshop.
DATES
• Saturday 2nd - Sunday 3rd October 2021 - Gloucestershire - FULLY BOOKED
TIMES - 10am - 5pm
VENUE
• Southam Village Hall, School Lane, Southam, Cheltenham, Gloucestershire, GL52 3NS
COST - £175
To book your place on the course please send a £50 deposit to Simon Heather.
(If you can no longer attend the workshop your deposit can only be refunded if we can fill your place.)
For more details please contact Simon on 01242 230 904.

FEEDBACK
SANNE - "Thanks again also for the inspirational workshop and the time and effort spent on it."

PAT - "Thank you for an enlightening, fascinating and interesting two days on the workshop.  I thoroughly enjoyed both days and was amazed at the power of the shifting energy when you did your demonstration on me!!"

BECKY - " I just wanted to thank you again for a wonderful weekend of learning, you are sharing a very valuable technique in the Assemblage Point Alignment."

LINDA - "Thanks for a fantastic inspirational course."

PAM - "The fact that the group was relatively small meant that everyone received personal attention."

SUSAN - "I feel more grounded after the treatments. I really enjoyed your teaching style."

CHRIS - "A very good workshop, I enjoyed the simplicity of the teaching and the great atmosphere."

SAMANTHA - "The workshop was fantastic, useful and extremely enlightening. The treatment is something everyone can benefit from."

GILLIAN - "The workshop made me feel very peaceful and balanced. Great content. Really excellent."

SHEILA - "The workshop was highly beneficial. A nagging pain in my hip has gone and not returned. I feel centered, fully empowered and like a new person."

ANNELISE - "The course was extremely important to me as I believe it is fundamental to wellbeing to have the Assemblage Point realigned."

LIZ - "The Assemblage Point work is amazing."

PAM - "Thank you for your teaching and for the realignment. I feel truly wonderful and can't wait to offer this  treatment to others."

HEATHER - "The workshop was really great, just the right blend of learning and practical work. I woke this morning with a lovely sense of calm."

KATIE - "I'm having remarkable results with the assemblage point and chakra balancing. It feels as though all the energy lines are being reset to their optimum. Thank you so much. Such invaluable work."

NICKY - "It is such a wonderful and fundamental treatment and could clearly change lives for the better so I really want to share it with others."

LUCIA - "Thank you so much for your wonderful teachings this weekend. I thoroughly enjoyed the whole weekend and learned so much from you. I thought the pace of the weekend was great - from the theory, examples, teachings and loved having so much practical time too."

PAULINE - "I would thoroughly recommend Simon's course to anyone interested in natural healing. In fact it seems to me to be the vital priority for anyone interested in their own well-being."

LAURELLE
"On a personal level, having the Assemblage Point centred has done more for my health than any other treatment I have ever had. My M.E. symptoms have disappeared and I am more balanced and centred than I have ever been before."
"I use it as a first treatment. I have practised it with zeal on all of my clients and had marvellous results. It is providing a foundation stone upon which everything else seems to sit. I have also taken it to France for a week with great results."
"The course was easy and simple to understand. The treatments we gave each other were profound and seem to have lasted. Knowing about the Assemblage Point has transformed my healing practice."

LISA
"After my treatment I felt such a feeling of balance and inner calm. I have never had this feeling whilst walking around. I feel so different."
"I am approaching life differently because of the adjustments made during the workshop. I am more assertive, focused, balanced, and positive. I am more in tune with my guides. I seem to have this new wisdom. I seem to be looking at the world through different eyes. I approach life differently. I am stronger."
"The workshop has opened my eyes to a whole new world. I feel it is essential to use this in every treatment that I do."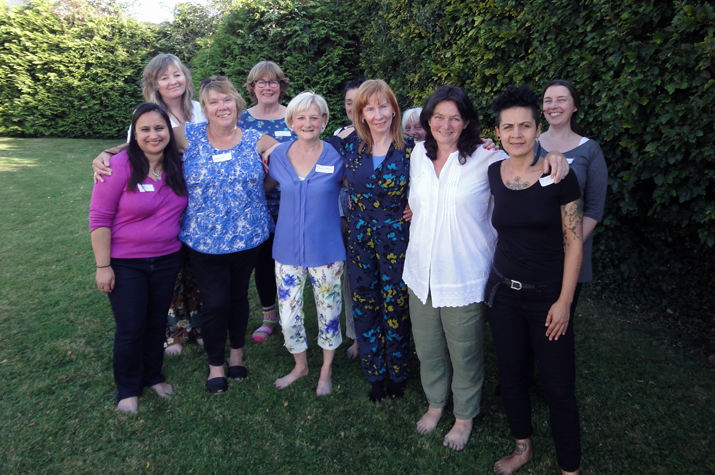 Assemblage Point Workshop September 2019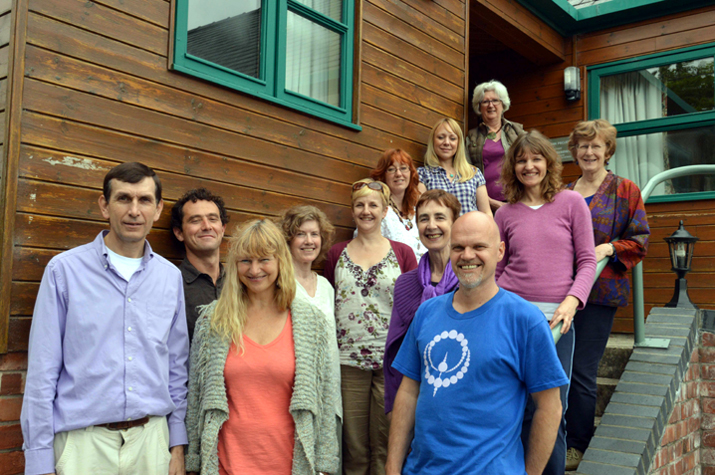 Assemblage Point Workshop June 2013