The Assemblage Point is the main place where our energy field connects with our physical body. The Assemblage Point is directly connected with our life force energy.
The position of the Assemblage Point has a direct effect on our physical and psychological health. When the Assemblage Point is correctly aligned we will feel positive and happy. We will be healthy and interact well with other people.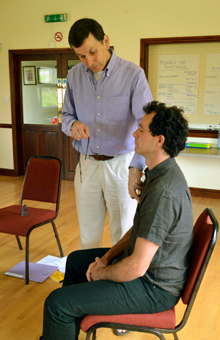 When the Assemblage Point is out of alignment we will feel unwell or anxious. We will be lacking in energy and feel that life is a constant struggle.
If the Assemblage Point is too low we will experience chronic fatigue. If it is too high our behaviour will be manic and aggressive.
In this workshop you will learn:
The different positions of the Assemblage Point and what they mean
How to find the position of the Assemblage Point
How to re-align your Assemblage Point
How to work with clients to re-align their Assemblage Point
The Assemblage Point re-alignment is usually done at the beginning of a healing session and generally only takes 10-15mins. As a result the Assemblage Point re-alignment can be added to any holistic treatment. The Assemblage Point re-alignment enhances the effectiveness of any therapy.
The Assemblage Point treatment has a profound effect on people. Other holistic treatments seem to work better and hold for longer once you have re-aligned the Assemblage Point.